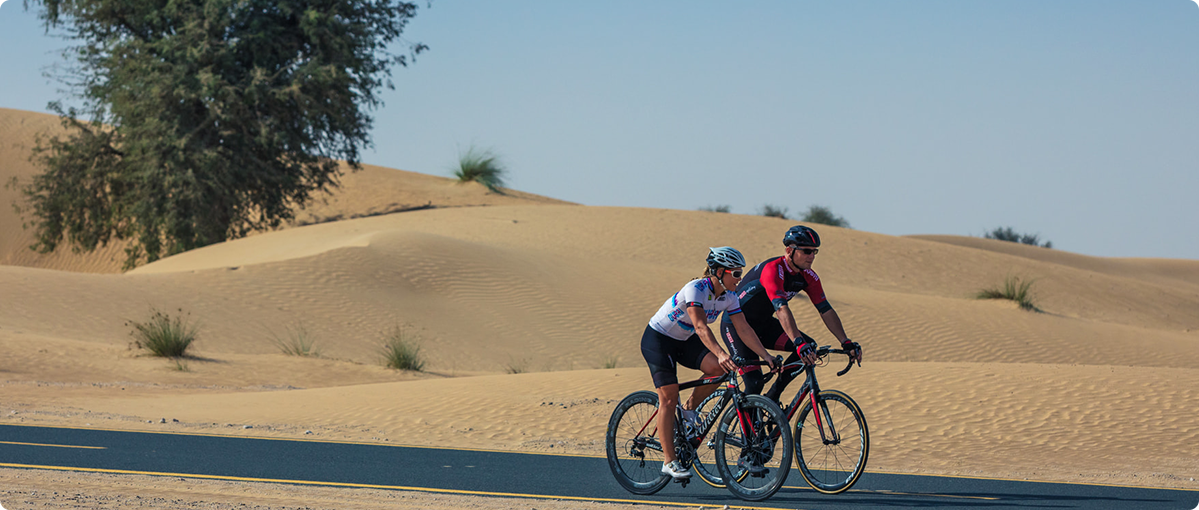 Article
Cycling in Dubai: Your Go-To Guide
From converted camel tracks to safe-cycling autodromes, local cyclists have always known that jumping on a bike is the perfect opportunity to get to know the ever-changing face of Dubai. It's also a great way to spend time outdoors, take your fitness to the next level and get in your 30 minutes per day for the Dubai Fitness Challenge. Use this guide as your go-to for cycle tracks, shops, rentals and riding groups in the city.
Nad Al Sheba cycle path 
The Nad Al Sheba cycle path is a converted camel track located near Meydan racecourse, which offers brilliant views of Downtown Dubai and Burj Khalifa. There are three different loops – 4km, 6km and 8km – plus lockers, air-conditioned changing rooms and shower facilities. The course is even lit for night riding. If you want to bring the kids along, there is a children's course, complete with street signs, speed bumps and roundabouts to teach young riders about safety.
Al Qudra cycle track
These two cycling paths are perfect for middle- to long-distance riders. If you want something short, try the 18km path. If you prefer a longer ride, the 50km loop is for you. It opens up both the breathtaking landscape of the sand dunes as well as the five-star Bab Al Shams resort, where you can stop by for refreshments en route. The best part? You can easily hire a bike right by the Al Qudra cycle path from Trek Bikes.
DXBIKE
Here's a new destination for lovers of cycling who want to explore a fresh route and ambience. DXBIKE is an 8.4km track located by the Mohammed Bin Rashid Al Maktoum City – District One project, offering tree-lined avenues and stunning views of the Dubai skyline. The track is eco-friendly and purpose-built – it incorporates solar lighting and is designed with low-impact surfaces. Riders are welcome to use it, as well as the surrounding facilities like changing rooms, showers, benches and vending machines, from 5am to 10pm daily.
Dubai Autodrome
The Dubai Autodrome offers a closed 2.5km flood-lit circuit perfect for beginners or those getting back after a break from cycling. It's open every Wednesday from 6-9pm for free to all cycling enthusiasts, and some cycling club members come here to train together. There is no need for advance booking – just show up and cycle. Helmets are compulsory. 
Cycleways in the city
Both Al Barsha Pond Park and Mushrif Park have excellent dedicated cycleways which are accessible during park opening hours (daily from 8am to 10pm, with Mushrif Park staying open to 11pm from Thursday to Saturday). Jumeirah Beach also has a bike path, which provides a 2km stretch along the beach next to the Burj Al Arab. The new Dubai Water Canal also has an enticing 12km cycling track worth checking out.
Getting yourself a bicycle
There are many reputable outlets around Dubai where you can either buy or rent high-quality bicycles, helmets and accessories. A good speedometer, so you can track your ride, is also a worthwhile investment. For starters, there is the popular Wolfi's Bike Shop in Al Quoz; Trek Bikes is conveniently located at the Al Qudra cycle track; Revolution Cycles, which is by Dubai Autodrome, has a great range; in the vicinity is The Cycle Hub, which offers the super-healthy and delicious Cycle Bistro as a bonus.
Riding with other cyclists
Looking to pedal up on fitness with a group? There a number of cycling organisations in Dubai that serve as a great way to connect with local riders. For starters, there's Cycle Safe Dubai, which hosts popular Friday morning as well as Monday evening rides.
Dubai Roadsters, among the first cycling clubs in Dubai, organises lots of different rides throughout the year for cyclists of varying competencies. Velo Vixens Dubai is for women of all ages who share a love of biking, while Revolution Cycles holds popular Monday night rides and provides great advice on the best bikes, accessories and nutrition for your needs.
If you're interested in a serious competition, plan ahead to ride in the next edition of the Spinneys Dubai 92 Cycle Challenge. This is the largest cycling event in the Middle East, having attracted over 1,800 riders in past events. As its name suggests, it stretches over 92km and has many categories, including junior and tandem challenge options.
Cycling rules to remember
Cyclists need to wear a helmet; they're available in bike shops or from sports stores at major malls.
You can't ride your bike on major roads or highways; use the dedicated cycle paths provided.
Don't ride on pedestrian pathways.
Double seat riding is not allowed unless the bike is designed for two.
Use front and rear lights for night rides. Wearing reflective clothing is also advisable.
Stay hydrated by drinking water before, during and after cycling.
Stay ahead of thousands of free workout sessions, events and more this Dubai Fitness Challenge. Register today and let's get active together!