DP World Fitness Village Kite Beach
Kite Beach

SUN-THUR: 2pm-11pm
FRI-SAT: 7am-11pm


FREE
Enjoy sun, sea, sand and endless free activities at Kite Beach during Dubai Fitness Challenge – simply book ahead to enjoy the fun.
One of three Fitness Villages in 2020, this expansive area is packed with incredible workout opportunities for every level, with a range of safety measures in place to keep you healthy.
From intense HIIT workouts and family fun at Aqua Park, to volleyball games and beach football kickabouts – you can come back and try something new each day throughout the challenge. You'll see plenty of your favourite play areas, all upgraded since last year's DFC.
New this year, you'll find trampoline workouts at Fitbit Rebounder, with a resident instructor on hand at all times. There's also a Ladies Pavilion, with facilities dedicated to women-only workouts. The enclosed area features LED screens for self training and guided sessions.
Bringing the whole family? The Teen Fit area hosts a variety of bootcamps, dance classes and functional training for 13 to 18-year-olds. The Kids Camp also has a Skill & Play area with monkey bars and climbing challenges to keep your little ones active.
Pack your beach gear and prepare for a sunny escape to the seaside – you'll wish you had more than 30 days to enjoy all the activities on offer!
Please note that safety and sanitation measures are in place, with limited numbers and a one-way system across all zones.
What to bring:
Comfortable training gear
Mask
Water
Towel
Please contact organisers for other essentials
BOOK NOW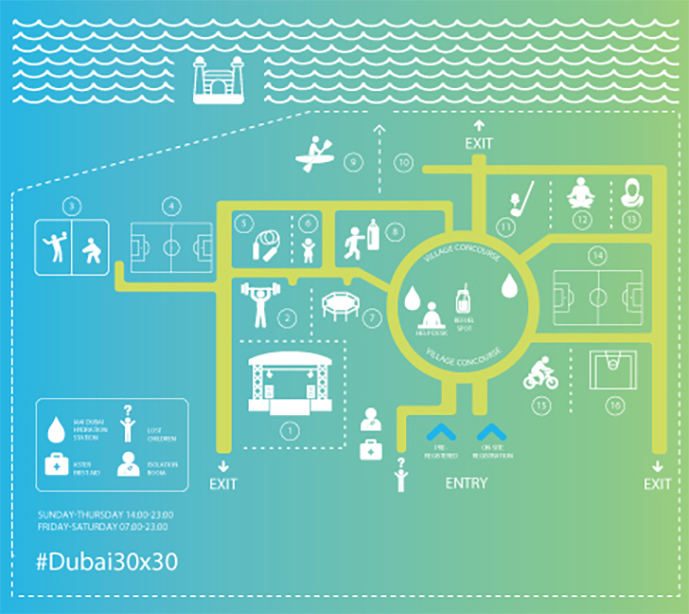 Etisalat Fitness Theatre

The Etisalat Fitness Theatre is the center stage where a variety of fitness sessions with top trainers and fitness experts are hosted.

Dubai Chamber Burn Camp

The Dubai Chamber Burn Camp is perfect for fitness enthusiasts seeking strength gains and sweat. Loaded with weights, fitness benches and rigs, this is the ultimate fitness camp for core strength, functional workouts and bootcamps that everyone will enjoy!

DP WORLD Beach Volleyball

The DP World Beach Volleyball area is great for a casual game with friends – or some competitive showdowns. Please book ahead if to ensure you get your court.

DP WORLD Freeplay Zone

The DP World Freeplay Zone has courts available for football – just book ahead if possible.

Emirates NBD Teen Fit

Start training them young! Emirates NBD Teen Fit is dedicated to teens aged 13 to 16 years old. This zone is filled with bootcamps, circuit training and speed and agility sessions. The short workouts and team programmes are designed to include some order and discipline in fitness.

Emirates NBD Kids Camp

The Emirates NBD Kids Camp is all about learning new skills and playing with fun elements – including a climbing wall. Kids can play for free and enjoy the space under parental supervision.

Fitbit Rebounder

Visit the Fitbit Rebounder to jump and fly! This spot features a trampoline rebounder, used for jumping exercises in-sync with some lively music.

Shield Me Combat Club

Shield Me Combat Club is the space for energetic bag workouts, empowering people through fitness, boxing and a never-give-up mindset.

IMG World of Adventures Watershed

The IMG World of Adventures Watershed offers unmatched watersports experiences for anyone seeking some adventure and exploration. Hop on for some stand-up paddleboarding or a take it easy on a kayak ride.

Aqua Park

Splash and have fun in the Aqua Park! With a massive water inflatable, both kids and adults will definitely enjoy some epic water obstacles.

Ian Poulter's Golf Challenge by DP World

DP World and Ryder Cup legend Ian Poulter are laying down a golfing challenge at Kite Beach Village from 30 October to 28 November.  No matter whether you are a seasoned player or new to the game, the chipping and putting challenge will give everyone the chance to test your skills, score points and win some fantastic golf prizes.

Emirates Astral Zone

The Emirates Astral Zone offers a wide range of classes, including yoga, pilates and barre. There are also wellness sessions, such as gong baths and meditation.

DP World Women's Fitness Pavilion

The DP World Women's Fitness Pavilion offers ladies-only classes for those who want to work out in a discreet location with programming from top female trainers.

DP World Beach Football Arena

The DP World Beach Football Arena offers sessions for leisure play or programmed training. Choose teammates, book yourselves in, show up and we'll take care of the rest.

DAMAN Spin Station

With rockstar instructors, amazing playlists and a full-body workout, spin classes will transform the way you look and feel.With a range of spin bikes, the Daman Spin Station is cycling, re-imagined!

TALABAT Game of Throws

If you want to take your game to the next level, grab some friends and head to the Talabat Game of Throws zone and shoot some hoops. The sessions focus on athletic skills for pre-teens to adults. The half-court zone can also be booked during "Book Your Court" timings.