Mai Dubai Fitness Village Festival City Mall
Dubai Festival City Mall

SUN-WED: 4PM-10PM
THUR - SAT: 4PM-MIDNIGHT


FREE
Dubai Festival City Mall will have its very own Fitness Village, complete with a range of attractions and activities for the whole family to enjoy.
Get ready for a climbing wall with five routes, 200-metre zip line, plunging bag jump and the thrilling Quick Jump – the massive leap of faith from a 12-metre platform will have your heart racing and knees shaking.
The IMAGINE Fitness Workout with Fitness First is sure to get everyone moving. Sports lovers can also play football and basketball, while the Workout Stage offers a variety of special exercise routines and motivation throughout Dubai Fitness Challenge.
Those who are competitive can look forward to The Arch Challenge too, which will run daily. To take part, enter into your category (men, women or teens) and push past your limits in the running, stair climb, zipline, inflatable gauntlet or climbing wall challenge to see where you stand and beat the best of the best. As a bonus, you could walk away with awesome prizes! Are you ready? Enter now.
Please note that safety and sanitation measures are in place, with limited numbers and a one-way system across all zones.
What to bring:
Comfortable training gear
Mask
Water
Towel
Please contact organisers for other essentials
BOOK NOW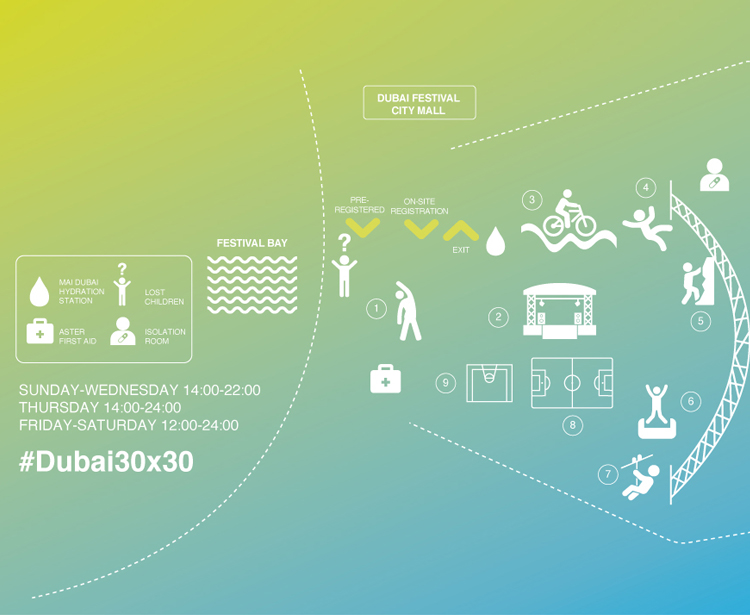 IMAGINE Fitness Workout with Fitness First

Join the IMAGINE Fitness Workout with Fitness First for an immersive 30-minute session unlike any other. Get ready to feel the burn with this dynamic experience. You'll leave toned, energised and ready for more.

ETISALAT Urban Fitness Theatre

The Etisalat Urban Fitness Theatre hosts dance and fitness sessions, on stage with partners. The bodyweight, dance and cardio workouts will not require any equipment.

MAI DUBAI Pump Track

The Mai Dubai Pump Track is the region's largest mobile track of its kind. The circuit – with rollers and banked turns – is perfect for skaters and BMXers looking to show off their skills and improve their lap times.

MAI DUBAI Quick Flight

It takes courage to make the first first step – especially when that step is from a 13-metre platform, with a plummet to the ground below! Not everyone is bold enough to enter the Mai DubaiQuick Flight zone, but the reward is worth it.

MAI DUBAI Climbing Wall

Discover your inner strength as you brave the thrilling Mai Dubai Climbing Wall. Located on the Arch, this nine-metre high outdoor climbing wall features four different routes, suitable for beginners to experienced climbers.

MAI DUBAI Bag Jump

The Mai Dubai Bag Jump features four-metre and six-metre freefalls before landing on a giant bag filled with air. It's a sure-fire way to get your heart pumping and feel incredible speeds without a harness.

MAI DUBAI Zipline

The Mai Dubai Zipline is a 250-metre, two-cable experience zip line that runs alongside the iconic Dubai Festival City fountain. Hang on tight, take a deep breath and enjoy the amazing views of the city!

FITBIT Urban Turf Football

The Fitbit Urban Turf Football zone offers sessions for casual games or programmed training. Choose teammates, book yourselves in, show up and we'll take care of the rest.

FITBIT Street Basketball

If you want to take your game to the next level, grab some friends and head to the Fitbit Street Basketball zone and shoot some hoops. The sessions focus on athletic skills for pre-teens to adults. The half-court zone can also be booked during "Book Your Court" timings.