Emirates NBD Fitness Village Al Khawaneej
Al Khawaneej

SAT-WED: 4pm-11pm
THUR-FRI: 4pm-midnight


FREE
Push your pedals and enjoy some family-focused fun at the Khawaneej Fitness Village. With an array of standing bikes, there are plenty of opportunities to complete your 30 on two wheels – and a lot more in store. Half-hour cycling slots are allocated on a first-come, first-served basis.
Stay tuned for events and activitations on the community workout stage, with lots of motivational moments to keep you moving each day. If you're bringing the kids, then the Family Fitness Zone is perfect for you. The spacious area has daily programming with group classes and open workouts for all fitness and experience levels.
Also brand new, the Kids Skill & Play Area features junior bootcamps, functional training, low climbing walls and parkour obstacles – with dedicated onsite staff available to assist.
In addition to the upgraded Fitness Stage, with a packed daily schedule, the Fitness Village includes an upgraded Ladies Pavilion. The completely enclosed facility offers dedicated workout programmes for ladies only.

Please note that safety and sanitation measures are in place, with limited numbers and a one-way system across all zones.
What to bring:
Comfortable training gear
Mask
Water
Towel
Please contact organisers for other essentials
BOOK NOW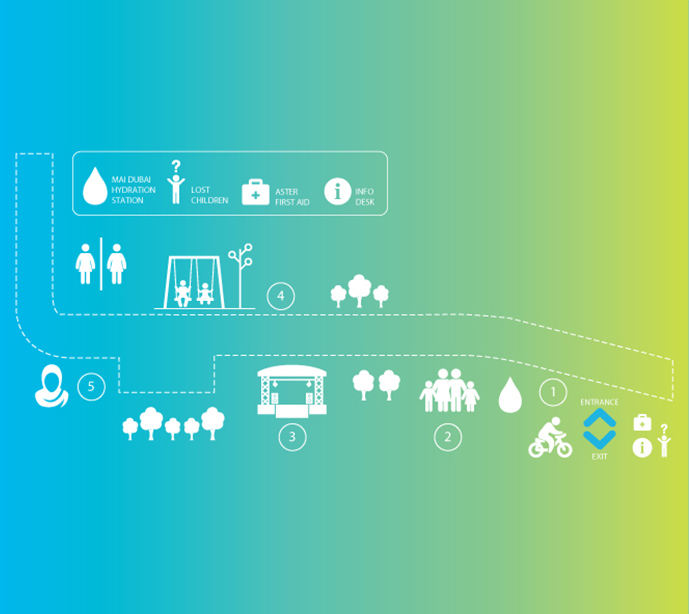 Emirates NBD Cycle Hub

The Emirates NBD Cycle Hub is a must for all cyclists. Kids and adults can book bikes free of charge on a first-come, first-served basis.

Emirates Fitness Stage

Emirates Fitness Stage is the heart of the village with a variety of fitness sessions for all ages, featuring top trainers and fitness experts.

Dubai Chamber Family Fitness Zone

Parents play a key role in shaping a child's attitude towards exercise. Families that work out together form healthy habits that last a lifetime. The Dubai Chamber Family Fitness Zone is a flagship area where children, parents, carers and grandparents can get active and have fun together.

Emirates NBD Kids Skill & Play Area

The Emirates NBD Kids Skill & Play Area is thae customised zone for kids aged 8 to 12 years and teens aged 13 to 16 years, with fun elements for climbing activies and team workouts.

Aster Ladies Pavilion

The Aster Women's Fitness Pavilion offers ladies-only classes for those who want to work out in a discreet location with programming from top female trainers.