Move With The City
Dubai Fitness Challenge is back, and it begins with you!
An initiative by His Highness Sheikh Hamdan Bin Mohammed Bin Rashid Al Maktoum, Crown Prince of Dubai and Chairman of the Executive Council of Dubai. Dubai Fitness Challenge is now in its 5th year. It encourages all residents to get active and move for 30 minutes for 30 days!

And you play a key role in turning Dubai into one of the world's most active cities - both as a Champion for your organisation and a key stakeholder in our citywide engagement.

This year STEPPI is the official Dubai Fitness Challenge App and you and your organisation are invited to join one of our leaderboards to track your 30x30 and earn rewards for being active.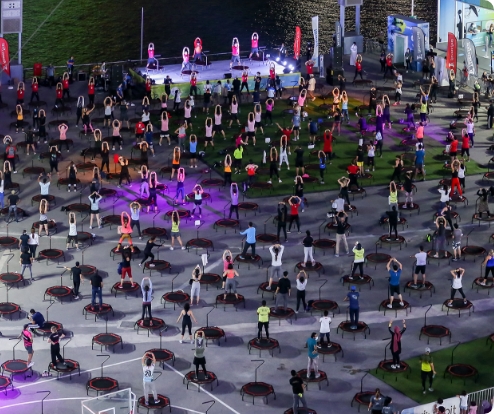 Why get involved
Its time. To get fit and healthy now!
Dubai Fitness Challenge is all about creating an active city and you are essential to creating this positive community ethos. How? Just invest in the health and happiness of your employees by getting them to be a part of it all. Regular exercise means more productive and engaged staff. Daily exercise can contribute to reduced stress and an increase in team morale. It also reinforces your commitment to creating an environment that supports work-life balance.
It takes 21 days to form a habit. Imagine what can happen in 30?
YOUR DFC JOURNEY
Champion Actions
Commit to DFC 2021
By registering your organisation
SEE MORE
Get Creative
Help create a program for your organisation to engage in different activities for the full month.
Switch On!
Accept the challenge by creating your own campaigns, join DFC events and offer prizes and deals.
Shape Your Journey!
Inspire others by sharing details of your 30x30 journey on social media and PR.
TRACK YOUR 30x30 WITH STEPPI
This year's Dubai Fitness Challenge official app partner is STEPPI. Users are invited to track their 30x30, join fun challenges and leader boards, win prizes and earn rewards for being active.
STEPPI is free to download, available on iOS, Android, and Huawei, and supports most major wearable brands to track activity.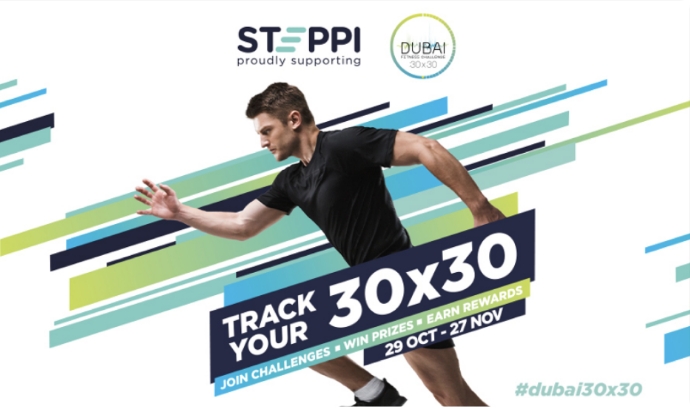 SWITCH ON
With 30 days OF opportunities to uplift the health and well-being of your organisation, we've put together some ideas to help you switch on and make the most of your Dubai Fitness challenge.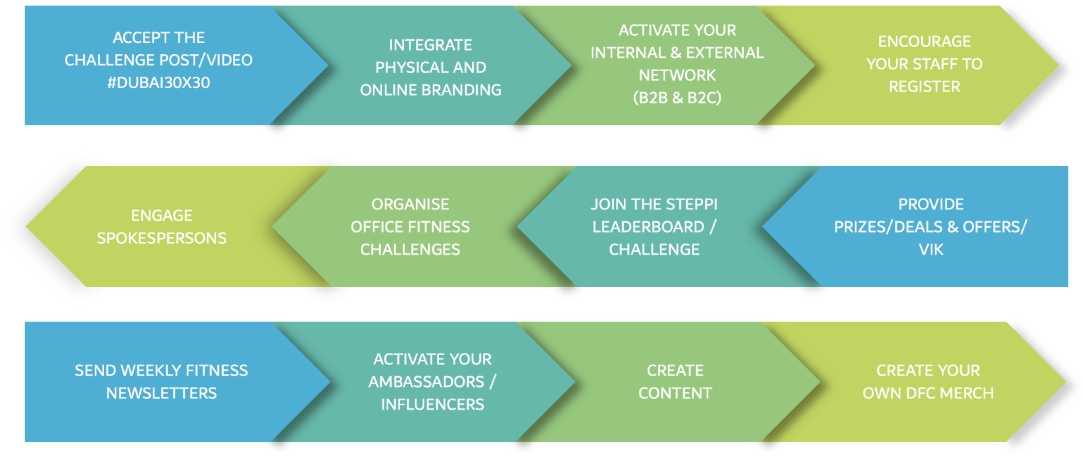 HOW CAN WE HELP?
We are eager to support all your efforts and will be actively promoting related content – prior to and during the Challenge.
Get the latest updates about Dubai Fitness Challenge by following us on social media and be inspired by our fitness and wellness content. You can also discover more with our range of DFC marketing material HERE
Click Link To Download Campaign Assets