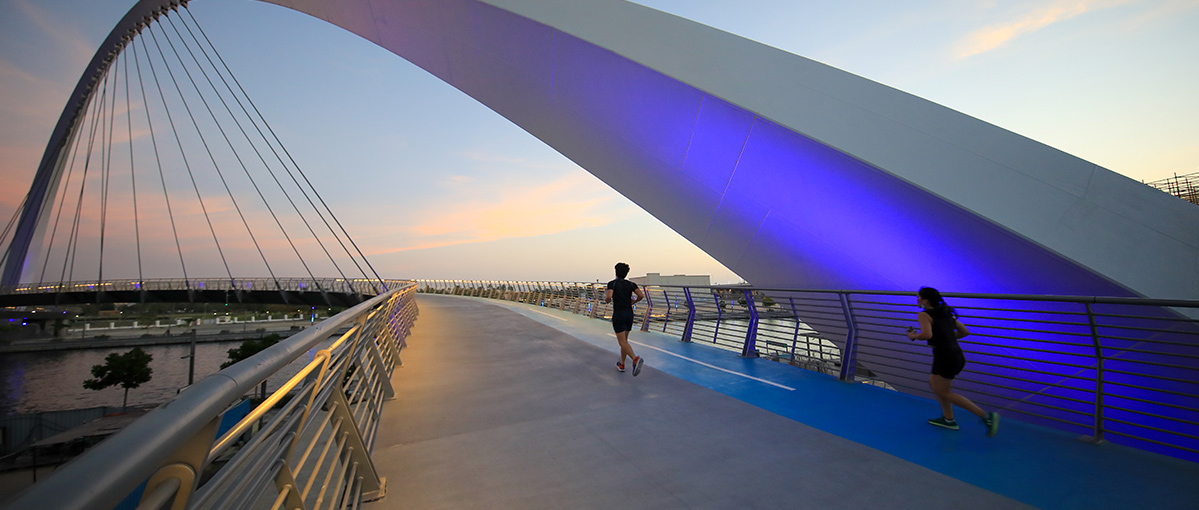 Article
Where to Go Running in Dubai
Running is an incredible way to break a sweat, reduce your stress and stay in shape. Why not start getting ready for the 2020 edition of Dubai Run? Taking place 27 November, the event has three distance opens – 2km, 5km and 10km – and is open for anyone to register. So, from coastal routes to desert tracks, here are some of the best places to get jogging in Dubai.
Go running by the beach
Check out Kite Beach for an accessible, spongy running track. It's one of the city's preferred running routes, nestled between Jumeirah Beach Road and the beach itself. The track begins at Burj Al Arab and stretches past the beachfront and over Dubai Water Canal. The total length is 14km, with signage every 100m so you can easily track your distance.
Pick up the pace on the Palm
For more sea views, try the Palm Jumeirah. The tree-shaped island stretches over 5km out into the Arabian Gulf. There are two routes to choose from. Try the 4km shoreline, up and down the 'trunk' for a leisurely jog. For a longer option, the Palm Jumeirah Boardwalk is an  11km 'crescent' route around the outer edge. It's a little more challenging but offers some spectacular scenery.
Spot some yachts 
The 4.5km track at Dubai Marina is very scenic, especially in the winter months. On one side are modern, gleaming skyscrapers, and on the other are views of the waters dotted with luxury yachts. There is no spongy track here, so wear good rubber-soled runners. If you want to enjoy the wide boardwalk and avoid the crowds, don't run in the late evenings when the masses are out scouting dining options. Aim to go for a run before 9am, or after 8pm for optimum space to stretch your legs.
Try some peaceful park routes
Dubai is an oasis city with a huge range of green, leafy spaces. One of the largest is Safa Park, with a 3.5km stretch of soft, red track, lined with a number of workout stations along the way. Safa Park lies alongside the Dubai Water Canal. This route is accessible 24-hours a day – appropriate for a city that never sleeps. Across town, Dubai Creek Park has an immaculate view of the city skyline, and you can admire older parts of the city. Not far away, Mushrif Park has some challenging hills, while Al Barsha Pond Park has a nice community vibe, with a track circling the scenic pond.
Find a running group
Some runners enjoy peace and solitude, but it can also be a social experience. If you don't want to run alone there are plenty of meetup groups for like-minded fitness enthusiasts. The Desert Road Runners is Dubai's oldest running club (founded in 1989) and meets multiple times a week. For another large group, try the Dubai Creek Striders, with action happening most nights. There are also branded groups, such as Nike Run Club and Adidas Runners.
Take the challenge!
There are many running events in Dubai's calendar, from 10km fun runs to marathons. Coming up next in the calendar is the return of the Dubai Run. Some details are TBC, but you should check out the official website to register and find out more.
Discover more free nutrition, wellness and fitness material to fuel your Dubai Fitness Challenge journey. Register today and let's grow better together!