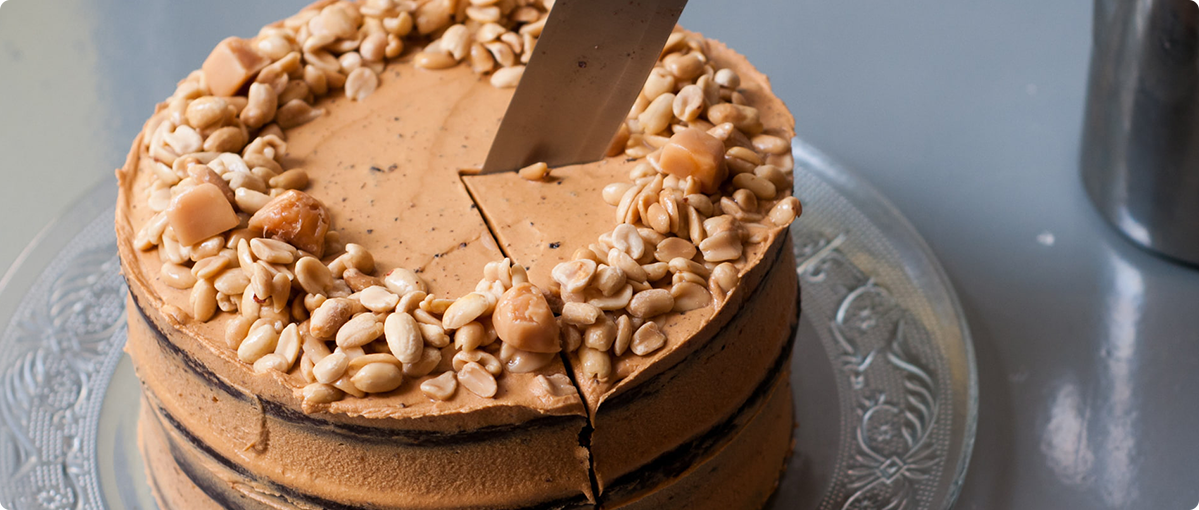 Article
TRY THIS YUMMY RAW BANANA AND PB CAKE
Prep: 15 mins
Cook: 3-6 hours
Serving: 12 slices
Ingredients for the crust
2 cups peanuts
1 cup oats
2 cups dates
4 tablespoons coconut oil
Ingredients for the peanut butter and banana cream
1.5 cups soaked cashews
4 – 5 bananas (depending on the size)
1/2 cup all-natural peanut butter
1/3 cup maple syrup
3 tablespoons coconut milk
Method
In a food processor, mix all the ingredients for the crust until it forms a sticky mixture (sticky enough that you can roll it into a ball without breaking).
Separate the mixture into two parts – for the crust and the second layer.
Line a 7-8 inch cake pan with baking paper and use the first half of the crust mixture by pressing it down into the cake pan, and even it out with your hand to firm a crust. Freeze this while you make the cream.
In the same food processor, mix all the ingredients for the peanut butter and banana cream (strain the water from the cashews) and mix until everything is well processed and a thick creamy mixture forms.
Pour half of this over the crust you made earlier and freeze for about 2-3 hours.
You can keep checking – if the cream layer hasn't become hard enough, leave it for a bit longer, otherwise pour the other half of the crust over the cream and freeze for about 20 minutes. Don't press this down as much as you pressed down the crust, as it might ruin the creamy layer underneath.
Finally pour the other half of the creamy layer over the second crust layer and even out with the back of a spoon and freeze for about 2-3 hours. The longer you freeze it, the better it will set.
Finally when your cake is ready, melt some good quality dark chocolate and pour it over the top or make a design as desired and let this cool in the fridge for a couple of minutes before you serve and enjoy.
Tips
-Raw cakes are yummy but they require a lot of patience. With this cake you need to wait for each layer to set.
-Remember the longer you let it set, the better your cake will set, it will look better and it will cut easily.
-It's very important that the creamy layer sets, otherwise when you cut into it, some parts might be still liquid and run into your crust.