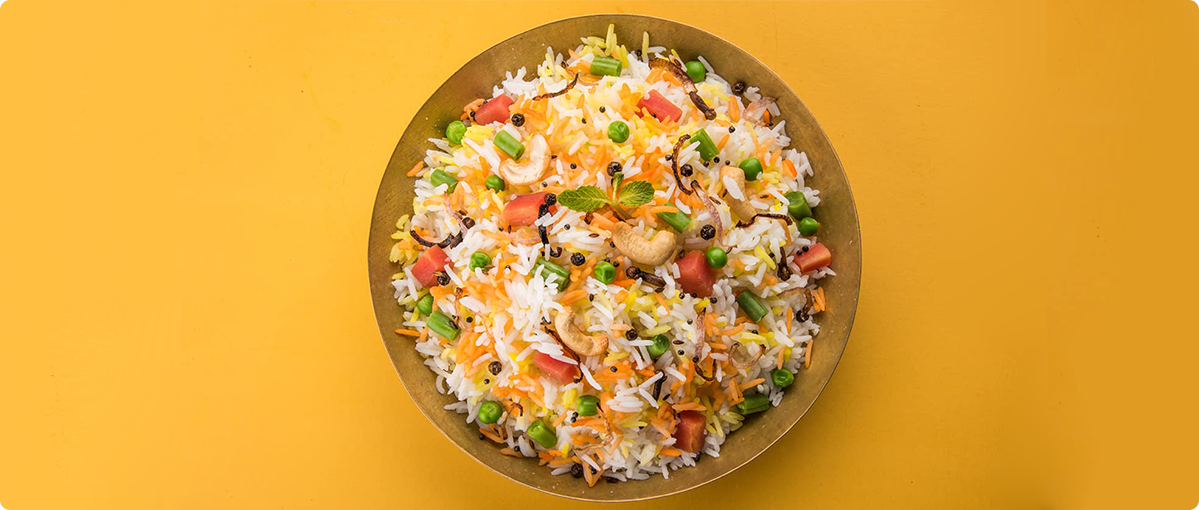 Article
TAKE A BITE OF THIS VEGGIE BIRYANI
Recipe by Right Bite
Ingredients
For the vegetable masala
400g cauliflower
320g carrots
240g green peas
200g green beans
100g onions
100g tomatoes
80g chickpeas
20g tomato paste
28g garlic
28g ginger
28g biryani masala
20ml olive oil
18g turmeric powder
15g coriander leaves
For the rice:
220g basmati rice
15g turmeric powder
500ml water
For the garnish:
60g onions
60g dried apricot
15g coriander leaves
Preparation and cooking method
For the rice:
Cook the rice in boiling water with turmeric powder
Strain and set aside
For the vegetable masala:
Soak the chickpeas overnight. Wash the chickpeas and boil until tender. Strain and set aside
Wash all the vegetables. Cut the cauliflower into florets
Cut the carrots, green beans and tomatoes into medium cubes
Chop the onions, ginger, garlic and coriander leaves
In a large pan, sauté the onions, garlic and ginger until lightly browned
Add the coriander leaves and tomatoes. Cook until softened
Add the tomato paste, turmeric powder and biryani masala. Allow to simmer and season with salt.
Transfer the mixture in a blender and process until pureed
Pour the mixture in a pot. Add the water and allow to boil
Lower the heat and add the cauliflower, carrots and green beans in the pot. Cook until tender.
Add the green peas and chickpeas. Adjust the seasoning as per taste.
For the garnish:
Slice the onions and chop the dried apricots and coriander leaves
Grill the onions until browned
Serving instructions
Serve the dish hot. Serve the rice with the vegetable masala poured over. Garnish with the grilled onions, dried apricot and coriander leaves.
Nutrition information per serving (makes 4 servings)
Energy 530 cal
Protein 18g
Fat 8g
Carbohydrates 98g