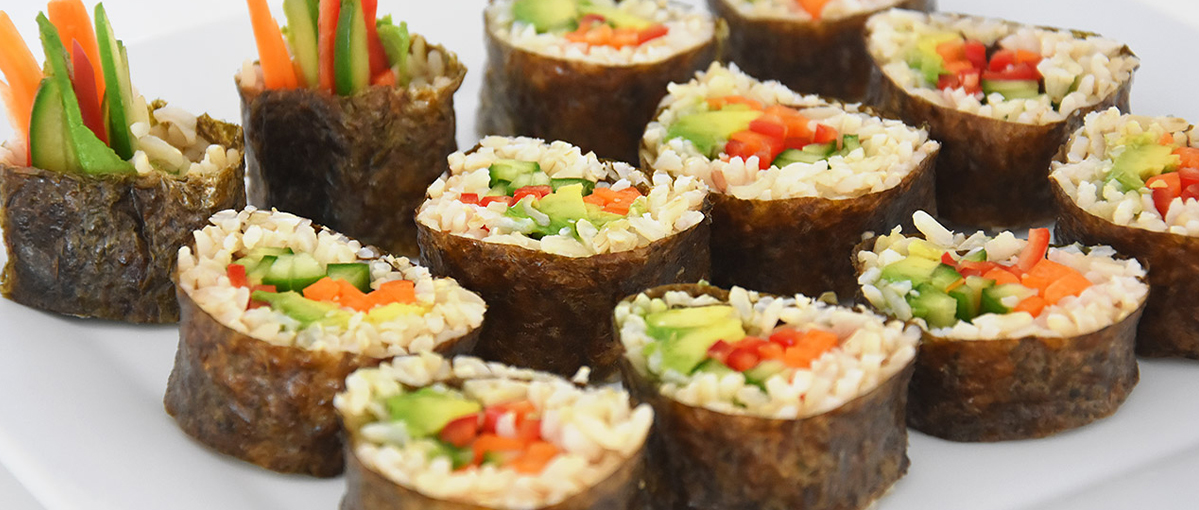 Making sushi rolls at home can be quick and easy and they are actually quite nutritious. They have quite a bit of fibre, a decent amount of protein and a high amount of vitamins and minerals. Twelve rolls (a portion for one) will cover all your daily needs of vitamin A and vitamin C. They are also very high in vitamin K, thiamin, niacin, B6 and folate. This vegetable sushi will also significantly fulfil your daily magnesium, phosphorus, potassium, copper, manganese and selenium needs.
INGREDIENTS
12oz (360g) brown rice, cooked
2 tablespoons rice vinegar
1 small avocado
1 small cucumber
3 nori sheets

INSTRUCTIONS
1. Combine rice with vinegar (or sushi seasoning) and set aside.

2. Prep the veggies: clean and cut the bell pepper and carrot into thin strips, if using. Quarter the cucumber lengthwise, cut out the seeds and slice it into thin strips. Cut the avocado into two lengthwise, remove the stone and set aside. It should be ripe enough so you can use a blunt knife to cut out slices directly from the shell as you would with butter.

3. Prepare the area. Place all the ingredients within reach, place a small bowl of water where you can reach it to wet your hands and the knife and place a rolling mat right in front of you. Cover the rolling mat with cling film and place a nori sheet on top.

4. Take ⅓ of the rice and place it all over the nori sheet leaving about 1 inch (~2cm) at the top. Flatten the rice with the flat part of the knife. Place ⅓ of all the veggies over the rice at the bottom of the nori sheet.

5. Use the rolling mat to roll the sushi. Use it to shape it. Move the roll aside and repeat the process with the other two nori sheets. You should end up with 3 large rolls.

6. Cut each roll in half, then cut each half in half then cut those pieces in half. You should end up with 8 small rolls per one large rolls, 24 sushi rolls in total. Keep in the fridge then serve with soy sauce and/or wasabi paste.

LEVEL UP
Add 1 carrot and 1 red bell pepper.

TIPS
-When cooking rice for sushi, only rinse it quickly. You want it to be sticky so the more starch stays on the grain the better. If your rice isn't sticky, that's ok, too. Just let your initial large rolls sit a bit before you cut them into individual sushi rolls.
-Always clean and wet the knife before cutting each roll.

MAKES 24 SUSHI ROLLS
Per portion (12 rolls)
460 Calories per portion
Protein 9g
Carbohydrates 60g
Fat 12g
Fibre 12g

Recipe from DAREBEE