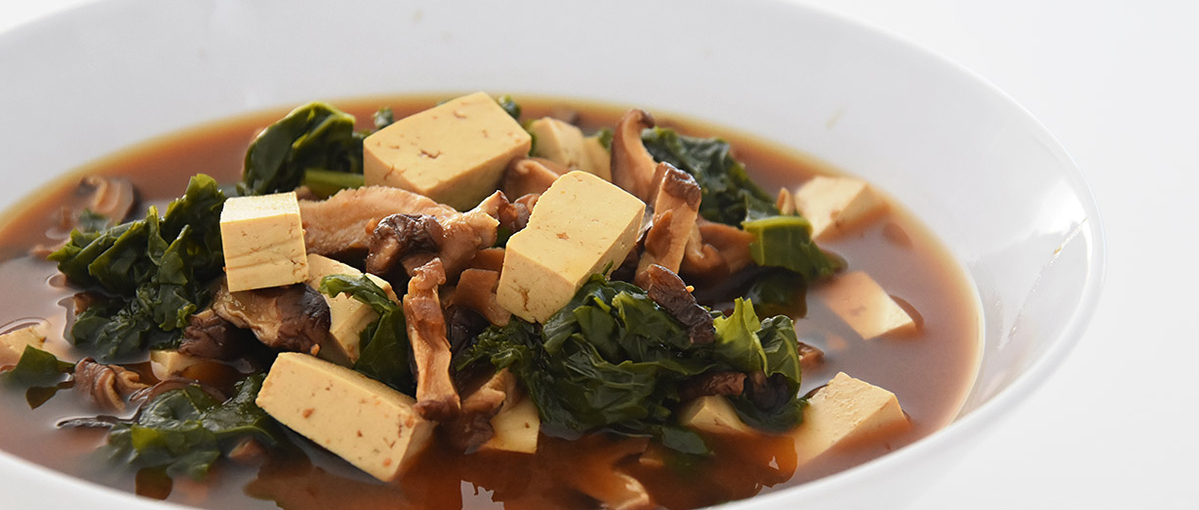 Article
Superstar Miso Soup
Dubbed as the 'nutritional superstar' when it comes to minerals and vitamins, miso soup hits over 40% of most of our daily needs, over 60% on others and some it completely covers.
INGREDIENTS
2oz (60g) kale
7oz (200g) firm tofu
6oz (180g) brown rice noodles
1oz (30g) dried shiitake mushrooms
2 tablespoons miso paste
6 cups of water

INSTRUCTIONS
1. Heat up water in a kettle. Place noodles and shiitake mushrooms in two separate bowls and cover them with plenty of boiling hot water. Set a timer for 10 minutes. When the time is up, drain both bowls and set noodles and mushrooms aside.

2. Add 6 cups of water to a cooking pot and bring to a boil. While the water is heating up, cut the tofu into cubes.

3. Add tofu, kale, drained shiitake mushrooms to the pot, cover it with a lid and boil them over a low heat for 20 minutes.

4. When the time is up, turn off the heat and wait for the soup to cool down. Use a ladle, take a scoop of soup broth and pour it into a bowl. Add miso paste. Use a whisk to dissolve miso paste in the soup broth then add it back to the pot. Stir.

5. Rinse your noodles under running water if they are stuck together - they should be cooked and soft at this point. Add ¼ of the noodles to a deep bowl, then add ¼ of miso soup and serve. The miso soup can also be served on its own, without noodles.

SWAPS & TIPS
-When making the soup always add miso paste to the cooled broth to preserve its probiotics. Hot broth will destroy them.

-You can serve it with or without rice noodles.

MAKES 2 PORTIONS
516 Calories per portion
Protein 25g
Carbohydrates 81g
Fat 12g
Fibre 9g

Recipe from DAREBEE

Get ready to hit your 30 minutes of activity for 30 days - find out how you can get involved today. We're in it together!