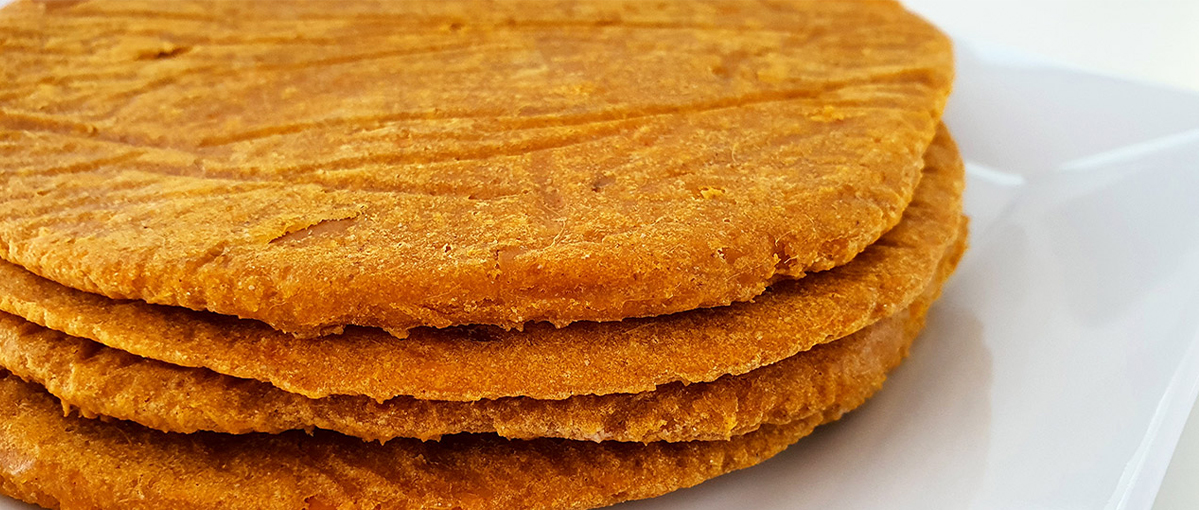 Article
Quick and Easy Sweet Potato Flatbread
This flatbread is easy and quick to make and it can be also be used for vegetable wraps. It's naturally sweet, soft and stretchy. It is low in saturated fat and very low in cholesterol and sodium. It is also a good source of dietary fibre and magnesium, and a very good source of vitamin A and manganese.
INGREDIENTS
10oz (300g) sweet potatoes
5oz (150g) flour

INSTRUCTIONS
1. Steam or boil sweet potatoes for 30 minutes or until a fork can easily go through.

2. Remove the skin from the potatoes and add them to the flour. Mix until combined.

3. Split it into 4 portions and roll them into balls.

4. Transfer them to a baking tray lined with a baking sheet. Cover with another sheet of baking paper and roll over it until you have thin flatbreads underneath. Carefully peel the paper off.

5. Bake the flatbreads in the middle of the oven at 374°F (190C) bottom heat for 10 minutes. After 10 minutes are up, flip them over bake for another 5 minutes. Serve hot or cold.

MAKES 4 FLATBREADS
180 Calories per flatbread
Protein 6g
Carbohydrates 40g
Fat 1g
Fibre 6g

Recipe from DAREBEE


Get ready to hit your 30 minutes of activity for 30 days - find out how you can get involved today. We're in it together!