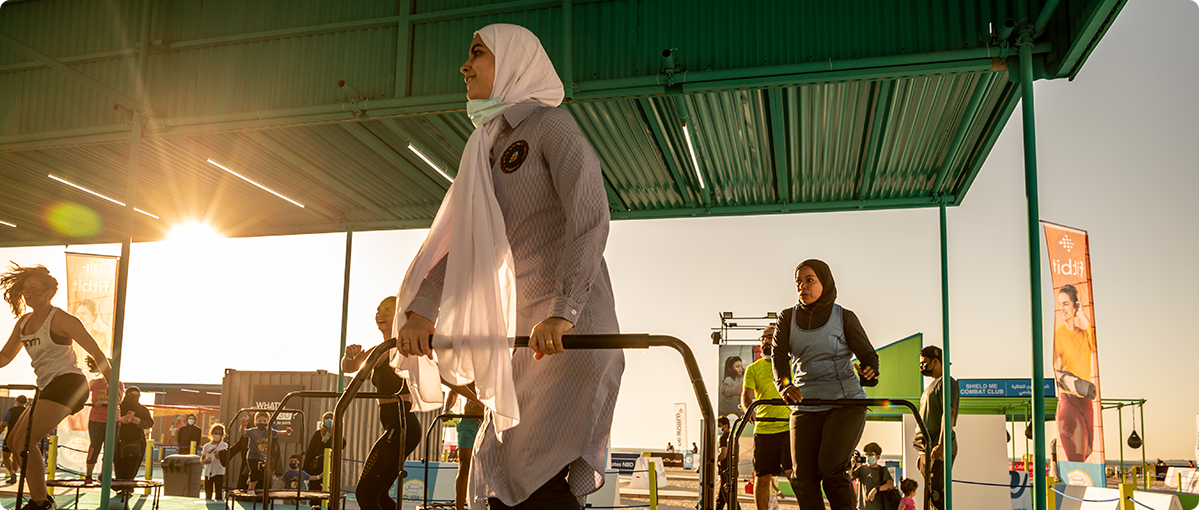 Article
Join These Sports Camps in Dubai
As parents and professionals kickstart their 30x30, there's no reason why the little ones and teens can't join in – in fact, as Dubai Fitness Challenge (DFC) is a citywide initiative for all ages and abilities, we encourage it! Alongside many dedicated sports facilities in the city, DFC offers safe spaces for the youth to engage in active fun and learning – especially for those students who are missing out on their regular P.E. sessions or after-school programmes due to Covid restrictions this semester. 
There's so much to look forward to in the coming weeks, with free or discounted trainer-led classes and kids' camps. Here's a list for you and your children to check out – spaces are limited, so sign up soon.
Head to the mall for Mirdif Camp
If you have a junior football star between the ages of six and 12 at home, have them polish up their game skills and on-field tactics at City Centre Mirdif's sports school this month. Mirdif Camp will run every Saturday and Wednesday, giving children a chance to take part in drills and matches under the guidance of coaches from Soccerkids Dubai. There's some fun activities planned for the little ones too!
City Centre Mirdif; +971 52 951 5598
Sign up at Dubai Sports World
Dubai's favourite summer indoor sports arena – Dubai Sports World – has been extended this year, with much of its current programming focusing on training for young athletes. Leading academies from across the city are offering weekday sessions on sports like tennis, football, badminton, volleyball and basketball for students of all levels and ages. Whether your child wants to perfect their footwork, backhand swing or match-point throws, the classes here are sure to equip them with the education and resources they need.
Za'abeel Halls 4-6, Dubai World Trade Centre; +971 800 3982
Stay active at DDY Fitness Camp
Young adults of determination can look forward to staying active in a secure and nurturing environment this DFC too, thanks to the DDY Fitness Camp. Organised by the Doris Duan-Young Autism Center, it will run on Saturday mornings for one to two hours during DFC. Hosted at two convenient locations, the institution's behaviour therapy specialists will engage qualifying participants aged 13 and older, as well as their siblings, in appropriate sports activities and games. Register early, as prospective students have to go through a screening process for the camp.
Al Barsha Pond Park and Dubai Sports World; +971 4 431 2890
Take advantage of Fitness Villages and Fitness Hubs
Can't find a camp schedule that works for you or too late to enrol in one? Explore the ongoing free activities at DFC's exclusive Fitness Villages and Fitness Hubs and design your own camp out of what's on offer. While the Villages have extensive zones for all kinds of day-long fitness fun, the Hubs host classes throughout the week for those who want to diversify their workout routine with something new. Villages are more family-friendly, as they have exciting play areas for children, energetic teen-centric classes covering dance and bootcamps, opportunities for courtside matches with friends and adrenaline-pumping activities for the adventurous – like ziplining, trampolining and parkour challenges. Get familiar with the event schedule at a Village or Hub close to you and plan daily or weekly trips for fitness as a family.
DP World Fitness Village Kite Beach
Emirates NBD Fitness Village Al Khawaneej
Mai Dubai Fitness Village Festival City Mall
Hamdan Sports Complex Fitness Hub
Discover more free fitness and wellness material to fuel your Dubai Fitness Challenge journey. Register today and let's grow better together!