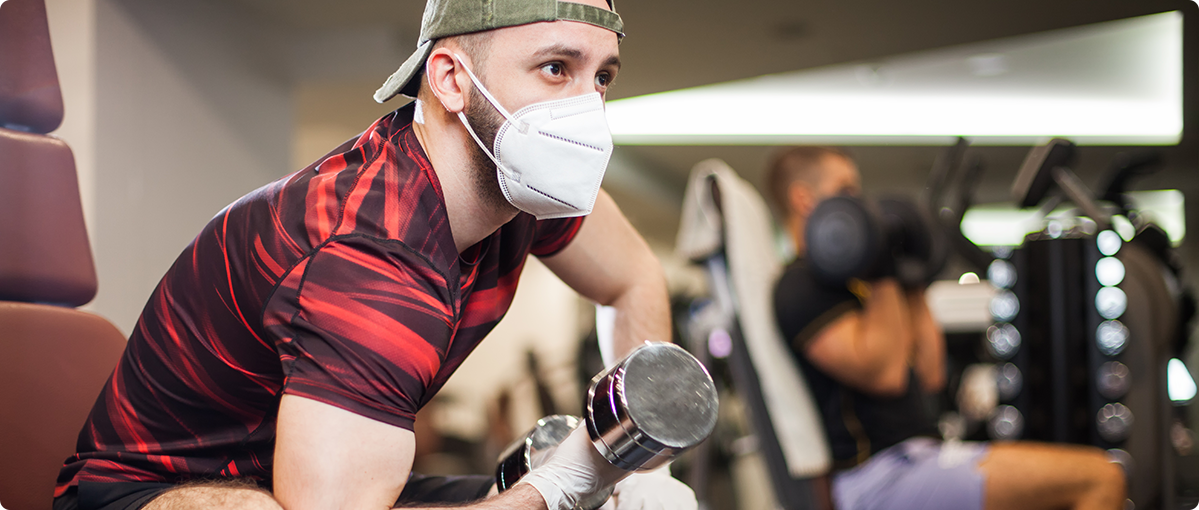 Article
Gym Safety During Covid-19
For many people, careful workouts are already part of their weekly schedule. Whether you're a daily gym-goer or due to dust off your membership card, here's how you can focus on hygiene and safety during your sessions – while considering the health of both yourself and others. 
1. Keep your mask on
All gym-goers must wear a face mask, according to Dubai Sports Council. This is key while engaged in light or moderate physical activity – but your mask can be temporarily lowered or removed while engaged in strenuous physical exercise. Just remember to place it back and be mindful of others in the vicinity.
2. Bring your own gear
Gyms are responsible for sanitising all facilities, tools and equipment, with a certificate issued by an approved sterilisation company. However, where possible, it's even better to bring your own gear from home. In fact, some gyms require that you do. Easy to pack items include resistance bands, skipping ropes, workout gloves, towels, yoga mat and drink bottles. This simply reduces the public surfaces areas during your session.
3. Wash, wipe, repeat
As per UAE government guidelines, it's important to wash your hands for at least 20 seconds, using antiseptic gel if soap and water aren't available. Do this throughout the day, when you enter public spaces or come into contact with others. While you're at the gym, you can also sanitise and wipe down your equipment – from dumbbells to benches, ropes and bars. Make sure you carry sanitiser with you.
4. Shower before and after
Take your hygiene to the next level and take a full body shower before and after your visit to the gym. Your hands are a priority, but being thorough will help boost your personal hygiene. Keep in mind, this is nothing new – most pool facilities encourage showering before and after your swim.
5. Find some space
Exercising keeps you healthy – but it's still important to stay socially distanced. It can be difficult to remain two metres apart from other gym-goers, so it may be helpful to visit during off-peak hours. The gym staff are required to limit numbers but a calmer, quieter facility makes it much easier to space out your activity. Note that Dubai gyms are also following guidelines, with spaced out workout machines and round-the-clock sanitation. 
6. Play outside
Gyms tend to be indoors. Indoor areas tend to have poor air circulation. If you have the choice, it's always better to work out in an open-air space – with plenty of fresh air and sunlight. Walk, jog, or ride a bike outside – just remember all the other principles still apply. As an added benefit, the clean air and warm rays are also great for a mental health boost.
7. Consider others!
While taking every possible precaution, it's crucial to remember that we need to be mindful of others. Even if we feel safe and confident about our health, we may be unwittingly transmitting Covid-19 to others around us. Wearing a mask, washing our hands and following social distancing rules is as much about supporting our wider community as it is about protecting our own health.
---
General advice from the UAE Ministry of Health and Prevention
Stay at home when possible
Maintain a distance of at least two metres from those outside your household
Wash hands regularly with soap for at least 20 seconds, or use hand sanitiser
Avoid touching your eyes, nose and mouth
Avoid contact with sick people who show respiratory symptoms
Cover your mouth and nose with a tissue, or your bent elbow, when you cough or sneeze
Discover more free wellness, motivational and fitness material to boost your Dubai Fitness Challenge journey. Register today and let's grow better together!