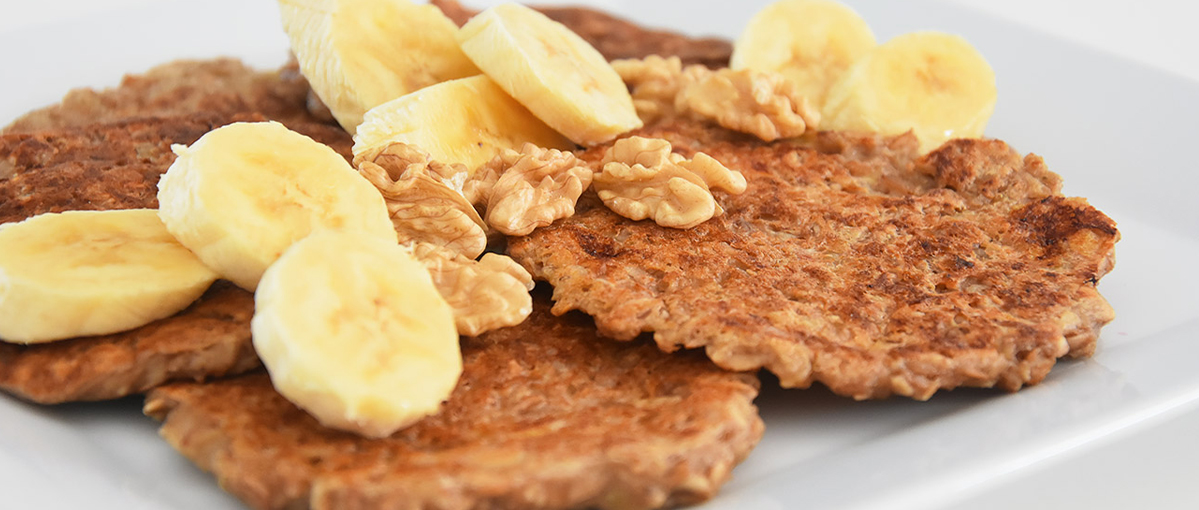 Article
Go Nuts for Banana Pancakes
A revamped version of the breakfast staple, these pancakes won't leave you feeling guilty after a naturally sweet and hearty meal! They are super easy to make and they only need three base ingredients: oats, a ripe banana and a cup of milk – any type you like, we used almond milk.
INGREDIENTS
1 cup (3oz / 90g) quick oats
1 cup (8oz / 240ml) milk
1 ripe banana
1 teaspoon baking powder
oil for frying

INSTRUCTIONS
1. Place all ingredients in a saucepan, mash the banana and mix well. Cook at low heat until the oats are cooked through and soft enough for the mixture to easily bind. Alternatively, soak them overnight instead. Keep refrigerated until needed.

2. Lightly oil a frying pan. Add baking powder to the batter and mix well. Add enough batter to form a medium size pancake, add as many as you can fit on the pan, and fry them over medium heat. Flip them over with a spatula halfway through once you see that the bottom begins to crust. Finish frying the pancakes on the other side until golden brown. You may need to do this in batches. Serve with sliced banana, strawberries and/or maple syrup.

LEVEL UP
Add ½ teaspoon cinnamon, ¼ teaspoon nutmeg and ¼ teaspoon clove.

SWAPS & TIPS
-There are three ways of making them to make sure they hold together: blend, soak or cook the batter before frying. If you have a food processor or a hand blender simply blend all three ingredients until smooth and add baking powder before frying.

-If you don't have a food processor you can either soak the oats in milk in the fridge overnight or pre-cook them in a saucepan to make them bind better. You don't want crunchy oats in your pancakes!

-For an oil-free method, bake them in the oven on a baking tray lined with baking paper just like you would cookies. Bake at 392°F (200°C) for 10 minutes.

Recipe from DAREBEE

Get ready to hit your 30 minutes of activity for 30 days - find out how you can get involved today. We're in it together!