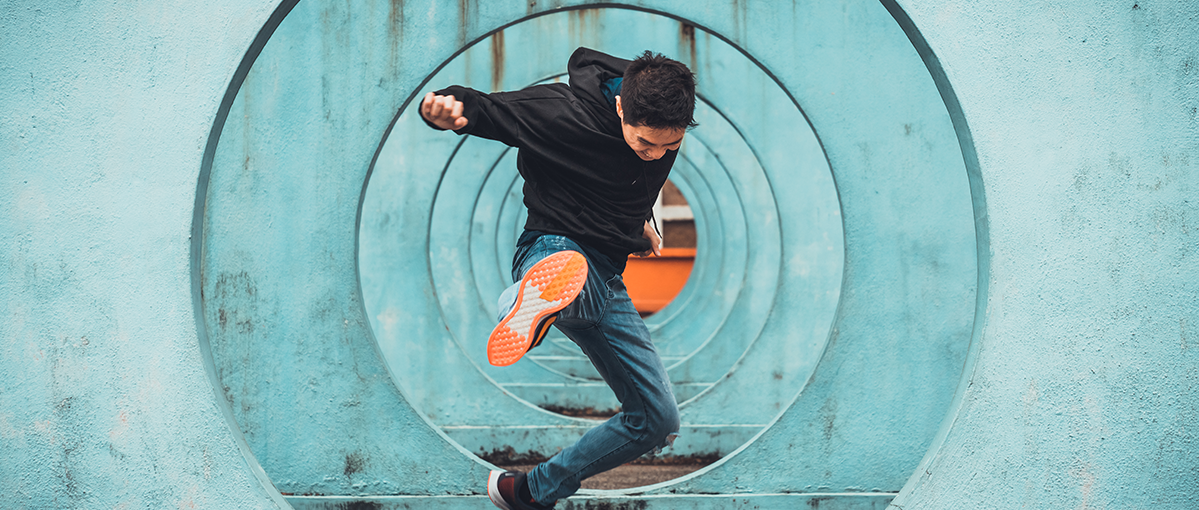 Article
Get Your Heart Pumping With Parkour
Want to try a high-intensity workout that's only really existed for 30-odd years? Parkour, which is better known as freerunning in the UK, might pique your interest. Its name, originating from the French word 'parcours', meaning 'route' or 'course', gives you a big clue about how it operates.
What is parkour?
The discipline involves making your way across any setting – whether man-made or natural – by using only your body. You run, jump, climb, roll, or vault through the course in the quickest way possible. People who practice parkour are called tracers or traceurs.
Its origin can be traced to France in the late 1980s, although there's evidence of the sport relating to training methods that were created before World War I. Now with a number of international organisations and competitions for parkour, this sport is very definitely here to stay.
It has also gained in popularity after featuring in many feature films, ads and TV shows, including the James Bond movie Casino Royale, The Bourne Ultimatum, Live Free or Die Hard, and Netflix film 6 Underground.
Where can I try parkour in Dubai?
If you want to give parkour a go, there are a few places you can get your move on!
Gravity Calisthenics Gym
Head over to Gravity Dubai in Al Quoz, where five forms of classes are currently on offer for adults and children. Get your workout in while learning the theories of the sport, and how to navigate the built environment most efficiently. Make it a family event – your kids will be able to learn how to expend their energy while increasing their balance and agility.
www.gravitydxb.com; +971 4 321 6006
Flip Out
A slight twist on the traditional form of the sport, Flip Out Dubai offers trampoline parkour to interested traceurs. The programme has been created in-house by three traceurs and can be taken by complete beginners through to experts. And once you get to an advanced level, you will get access to invite-only jam sessions too!
flipout.ae; +971 600 567 568
Parkour Dubai
Whether you're looking for classes for children or adults, or one-on-one personal training, or even school programmes, Parkour Dubai has you covered. The space in Al Quoz has plenty of obstacles to try traversing, with some classes also being taken outdoors to give you that practical experience you need to master the sport.
parkour.ae; +971 800 727 5687

Discover more free nutrition, wellness and fitness material to fuel your Dubai Fitness Challenge journey. Register today and let's get healthier together!