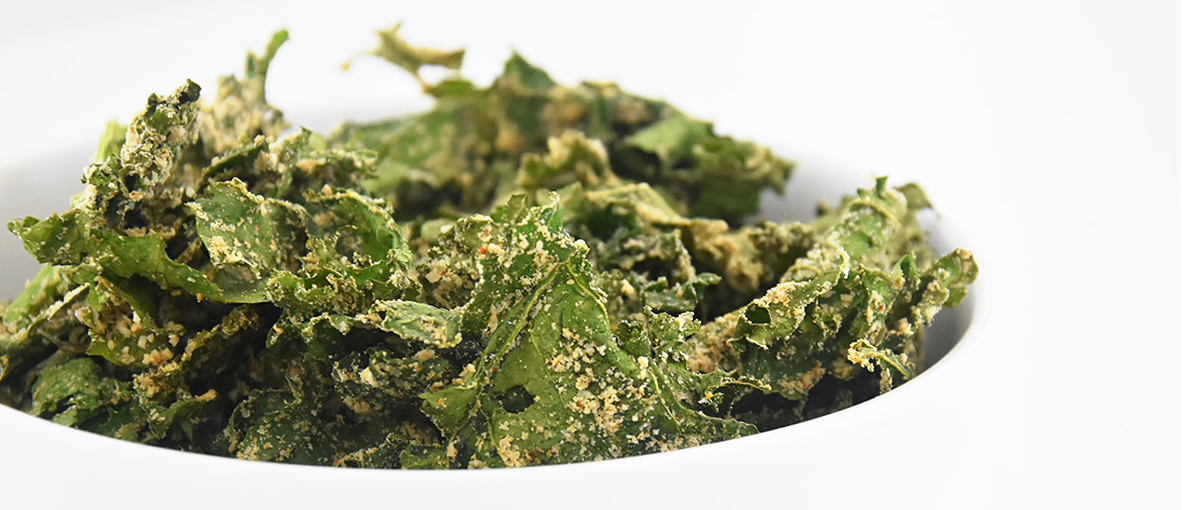 Article
Crunchy and Healthy Kale Chips
Crispy, cheesy and loaded with nutrients, these crunchy chips are actually good for you and can be made without using any oil.
INGREDIENTS
150g fresh kale
½ cup sunflower seeds
¼ cup nutritional yeast

INSTRUCTIONS
1. Strip kale leaves and discard the stems. Wash the kale well and dry using a paper towel or a salad spinner. It's ok if they are still a bit moist. Arrange kale leaves on a baking tray on a sheet of baking paper in a single layer.

2. Grind the rest of the ingredients together using a blender to make the coating.

3. Sprinkle kale with the coating mix and use your hands to coat each leaf as much as possible.

4. Bake in the middle of the oven at 293°F (145°C) for 20 minutes. Check halfway through in case you need to turn some of the leaves over. Eat right away and/or store in a cool dry place in a plastic bag for up to 3 days.

LEVEL UP
Add ⅛ teaspoon mustard powder, ⅛ teaspoon pepper, ⅛ teaspoon paprika and ⅛ teaspoon ginger.

TIPS
-Use leftover coating mix and bits of kale to make a salad dressing or dip. Collect what's left on the baking tray after you've made the chips, add ¼ of water and blend until smooth for a cheese kale dressing.

-They can also be made without any coating, simply shred the kale leaves and bake in the oven.

MAKES 4 PORTIONS
87 Calories per portion
Protein 7g
Carbohydrate 9.7g
Fat 3.5g
Fibre 3.6g

Recipe from DAREBEE

Get ready to hit your 30 minutes of activity for 30 days - find out how you can get involved today. We're in it together!