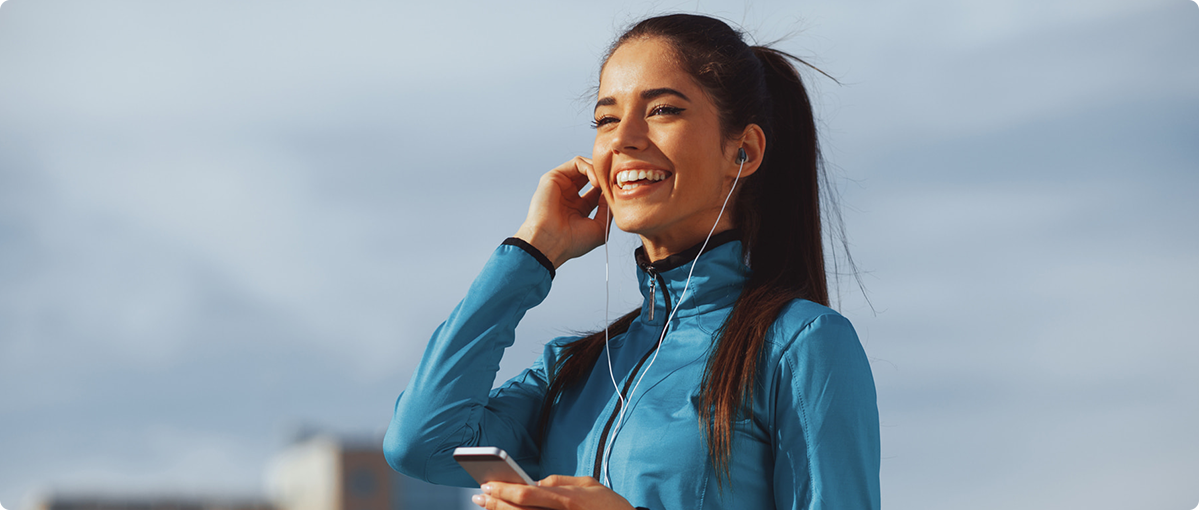 Article
8 Tricks to Make Your 30 Minutes of Exercise Fly By
Sweating just thinking about your workout? The best kind of fitness session is one you look forward to and the goal of #Dubai30x30 is to embed an active lifestyle into your daily routine. If you find yourself dreading your workouts, here are some nifty ways to make exercise time a breeze.
1. Catch up on TV
Save the latest episodes of your current favourite show for the gym to liven up your workout. Cardio and core workouts pair well with TV, so you can watch and exercise with ease. Not only does this save you from binge-watching an entire season in one go, but it also takes your mind off your workout and the clock. 
2. Explore new music
Dabble in your DJ career at the gym by using your 30 minutes to discover new music. Applications like Apple Music, Spotify and Anghami curate special playlists for different moods, including energising mixtapes for workouts. Dedicate your exercise time to expanding your music library with new hits and infectious tracks you may have missed, or make your own upbeat playlist to keep your heart rate and spirits high while you work out. 
3. Try a new podcast
The universe of podcasts is vast and ever-expanding with topics of any and every kind to explore. Take a break from your routine playlist and listen to gripping podcasts to pass time discovering different stories, learning about new things or gaining unique insights from experts. New to the world of podcasts? Check out Sarah Koenig's sensational Serial or Radiolab, where the hosts tackle a diverse list of topics daily.  
4. Go with a friend
Whether you're going to a class or hitting up the gym, buddy up with a friend who motivates you and turn your 30 minutes into a productive playdate. Working out with a friend makes exercising more fun, approachable and motivating since you're in it together. It might even bring out your competitive side and encourage you to push yourself harder than you would on your own.
5. Join a class
There are so many exciting fitness classes on offer throughout Dubai, whether you're interested in cycling, yoga or boxing. Shop around for a session that meets your definition of fun and fitness to make exercise feel like a walk in the park. Group workouts also generate a shared sense of motivation. 
6. Download an audiobook
Catch up on reading with your ears. Just like podcasts, audiobooks offer a welcome respite from the same music every day and also change your focus while exercising. If you're a fan of fiction, a dedicated history nut or all about self-help books, save some chapters for your workout and knock two to-dos off your list at once. 
7. Break it up
The Dubai Fitness Challenge is all about trying new activities. If running for 30 minutes straight seems too overwhelming, try an activity where you start and stop to give yourself a few minutes to breathe. High-Intensity Interval Training (HIIT) is a good way to make sure your short workout is effective, as it packs in spurts of exercises into short periods sprinkled with rest times. There are plenty of HIIT programmes online which you can try at home, or explore classes in Dubai for expert-led sessions.
8. Take it outdoors
Sometimes working out at home or in a gym can get boring. Take your workout to a park or beach for a change in scenery. Not only does Dubai have free public gyms at buzzing destinations like Kite Beach and The Beach at JBR (where you'll also find padded running tracks), but there are all kinds of outdoor group classes and fitness sessions on offer during Dubai Fitness Challenge. If you have a dog, bring them to pet-friendly parks like Mushrif Park for an intense game of fetch or catch, so both you and your furry friend can work up a sweat.
Stay ahead of thousands of free workout sessions, events and more this Dubai Fitness Challenge. Register today and let's get active together!