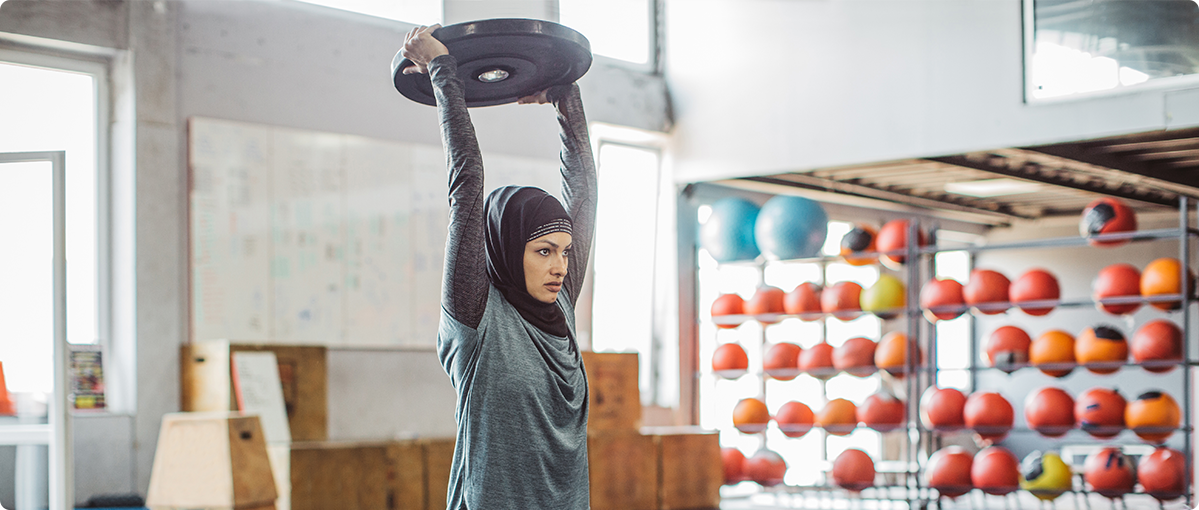 Article
30 MINUTES OF FITNESS FOR 30 DAYS
Staying motivated for the Dubai Fitness Challenge is simple – all you need to do is fit in 30 minutes of exercise every day until 28 November. To help you on your way, we've brainstormed 30 ideas to get moving. In all this fun, don't forget to check out some of DFC's free workout classes, events and more.
1. Balancing act
Take to the calm waters of the Arabian Gulf for some stand-up paddleboarding (SUP). If you've never tried this gentle yet effective watersport, head to Surf House Dubai where you can attend group SUP classes led by their friendly instructors.
+971 50 796 3076
2. Get your skates on
Pick up a skateboard and head to Dubai's beachfront for an afternoon skate session. The XDubai Skate Park at Kite Beach has plenty to appeal to both novices and professionals. The skate bowl here is a showstopper at 3.2m deep and a 2.1m shallow end, rivalling some of the world's most difficult bowls.
+971 56 831 2349
3. Off the walls
Hop your way through your 30 minutes at BOUNCE. With springing trampolines where you can jump freestyle or challenge friends to a round of dodgeball, this indoor play zone offers you a workout that's more effective than running. Up the fitness factor and sign up for BOUNCE FIT for a high-intensity, low impact cardio workout to blast your core.
+971 4 321 1400
4. Fly over water
For an alternative fun fitness session, try Flyboarding. You'll be secured to a special board linked to Jetski turbines that propel you to heights of up to 10m above the water. SeaRide Dubai offers 20 minute flyboarding sessions that will put your core muscles to the test.
+971 55 157 8393
5. Ready to ride
Did you know you can burn nearly 500 calories in a 30-minute spin class? Dubai has plenty of spinning studios to choose from, perfect for both beginners and pros. Get extra credit at The Trip sessions by GFX, 40-minute virtual reality spinning classes, where your first class is free.
+971 4 425 5940
6. Cruise the Madinat
Head to Madinat Jumeirah for a scenic power walk. Cruising between the souk to Al Qasr hotel alongside the canals is a picturesque route for locals and tourists alike.
7. Surf the sand
Take to Dubai's majestic sand dunes for a quick sandboarding session. Sliding down and climbing back up the shifting sands will wear you out in no time.
8. Spend a day at the beach
Turn this Dubai weekend favourite into an easy workout with the family. Chase your kids on the sand, splash about in the waves, or haul buckets of sand for a nearby toddler's sand castle, and you've got your day's workout done without even trying. If you're at Kite Beach, be sure to check out the free fitness village that offers a wide range of active fun.
9. Catch the metro to the mall
Leave the car at home and use the metro to get to The Dubai Mall. The enclosed and air-conditioned metro bridge that links the mall to public transport is roughly 1km long; continue through the mall down to the Dubai Fountain and you've got your 30 minutes for the day.
10. Take a hike
Experience the great outdoors with a trip to the rugged Hatta mountain range. This scenic area is the perfect place to try a 30-minute hike with the right equipment as the routes have been carefully mapped out. Advanced trekkers can venture further into the craggy mountains.
11. Monkey business
If the little ones love leaping off boxes and climbing walls, introduce them to parkour. Gravity, a gym dedicated to the sport, hosts classes that range from the absolute basics to pro-level antics.
+971 4 321 6006
12. Pedal through parks
Explore Dubai Creek Park on four wheels by renting a Byky bicycle. Located in Dubai's historical neighbourhood, this green space features acres of botanical gardens and mazes that make for a stunning view while you bike and burn calories. You can even make it a group effort by renting a family bike for four.
+971 4 800 900
13. Game, set, match
Book a tennis court at Jumeirah Beach Hotel (+971 4 348 0000) and have a match with a friend. There are seven flood-lit courts on offer, and you can rent a racket if you don't have your own. For a fun variation of the sport, book a group session of Padel tennis at Padel Pro in Jumeirah Lake Towers (+971 56 554 6665).
14. Dance off
Let loose and challenge your friends to a dance-off. A fun way to elevate your heart rate and get moving, put together a 30-minute playlist of your favourite jams and show off your moves; or, raise the bar during a one-day free trial of a full body, barre-based workout at Physique 57 at Al Thanya Mall.
+971 4 321 0577
15. Run on the sand
Energise your beach day with a few rounds of sand sprints at one of Dubai's well-maintained public beaches. Draw two lines in the sand, approximately 70 metres apart, and race it with a 30-second rest between each sprint. The sand provides resistance for extra calorie burning.
16. Swing on by
Hit the jungle gym, climbing nets and outdoor exercise set next to Zero Gravity Dubai. Free to use, the fitness space is popular with local training groups.
17. Pick up a rope
Cheap, easy, and able to be done practically anywhere, jumping with a skipping rope is a great way to add a half-hour of cardio to your day.
18. Tackle the stair climb
Prep in advance for the next edition of the popular M1 Vertical Climbing Run, covering 700 stairs across 42 floors of the Media One Tower. Whether you practice at your villa, residential tower or outdoors, be sure to keep track of your step count!
19. Seaside workout
Positioned as part of Jumeirah Beach Residence's The Walk development, there's an outdoor gym set with pull-up bars, fixed cycle and more available for anyone to use. There's a similar one at Safa Park with a dedicated running track and equipment that's free to use.
20. Refresh your swing
Get a one-on-one golf lesson with a pro at Arabian Ranches Golf Club. In just over 30 minutes, they will make adjustments to your stance, swing and putt to help you better your game. Bonus points for ditching the golf cart and walking the course instead!
+971 4 366 4700
21. Jog it off
Take a lap around Mamzar Beach Park, a breathtaking locale where a thriving green zone meets the sea. Arrive early for a breath of early morning fresh air and reward yourself with a laid-back afternoon soaking in the sun and waves.
22. Pony up
Head to the Dubai Polo & Equestrian Club in Al Qudra Road for a group riding lesson, and learn how to walk, trot, canter and gallop your horse.
+971 04 361 8111
23. Major laser
Bring along a friend or two to Thrill Zone in Oasis Centre Mall for a high-energy game of laser tag. Each match runs for 15 minutes, so you have enough time for a second round of running, ducking and dodging.
+971 4 388 3551
24. Dive deep
For a cardiovascular workout with a difference, dive into the waters of Dubai Aquarium's super-sized 10 million litre tank and swim with fish, sharks and stingrays in the middle of The Dubai Mall.
+971 04 448 5200
25. Make waves
Take on AquaFun, the floating assault course at JBR. Made up of multiple obstacles, you'll have to keep your balance, or end up in the ocean.
+971 50 784 9784
26. Channel Spiderman
Build some muscles, test your endurance and burn calories during a sweat-inducing rock climbing session. Mountain Extreme boasts Dubai's largest rock climbing wall to give you plenty of directions to go, and you can even arrange for a coach to guide you through the session.
+971 4 446 6080
27. Walk the Marina
One of Dubai's best walking trails sweeps along the stunning Dubai Marina waterfront, before winding up at the buzzing JBR on the opposite side. Want to add a scenic challenge? Tack on the pedestrian bridge between JBR and Bluewaters island for a view to leave you breathless.
28. Splash outdoors
Take a dip at one of Dubai's beautiful public beaches or hotel resorts (fees may apply). The gentle waves and warm Arabian Gulf waters are perfect for paddling, floating and swimming.
29. Burn up the slopes
A chilly take on group exercise classes in the world's largest indoor ski slope, Ski Dubai's snow-robics will lead you through a customised high-impact routine that torches calories and raises your heart rate.
+971 800 386
30. Salute the sun
Run through a few repetitions of this toe-touching yoga routine every morning at home to wake up your body and focus the mind. You can find a wide range of stretching sequences online, for zen beginners and experienced yogis alike. Or, take a class at one of Dubai's zen studios like Yoga Ashram in JLT.
+971 4 552 0048
Stay ahead of thousands of free workout sessions, events and more this Dubai Fitness Challenge. Register today and let's get active together!