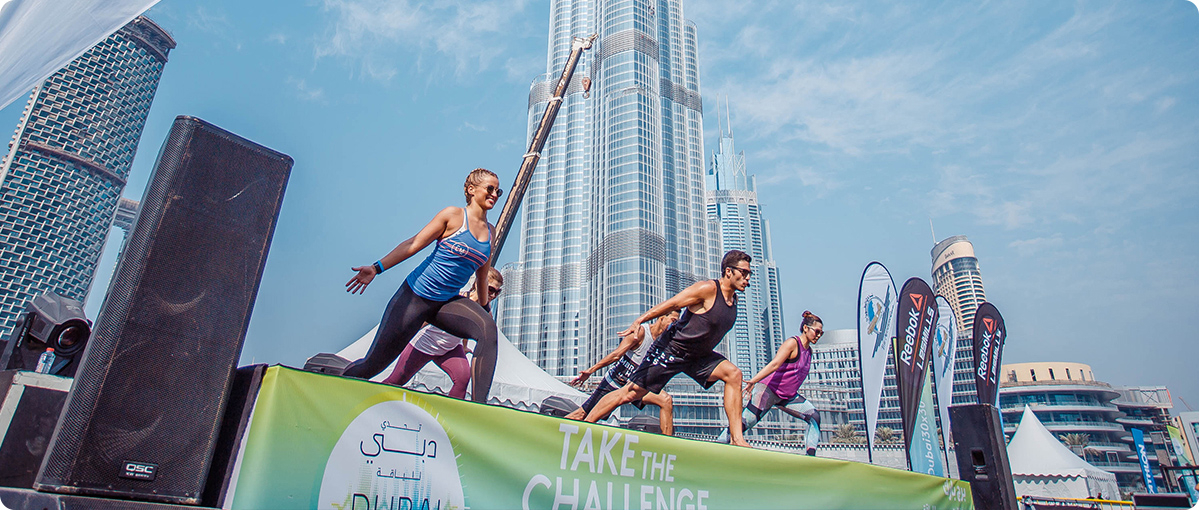 Article
Your Guide to Staying Fit Outdoors
Keep the Dubai Fitness Challenge (DFC) momentum going and take your fitness fun outdoors. Get some fresh air, feel the sunshine on your face and start crunching – with safety and social distancing guidelines in place wherever you go.
1. Experience City is a Gym
Discover Dubai on a workout
DFC's fantastic City Is a Gym concept is staying on past the challenge, with 30 incredible workouts from top Dubai trainers. Find an exercise video and downloadable PDF guide designed by top local trainers, featuring calisthenics to combat HIIT exercises and more. Be prepared to sweat it out wherever you choose!
A few workouts to start with:
2. Go for a run
Jog along the city's spectacular tracks
Whether you want to stretch out your legs on a solo workout or join one of the many local community running groups, there is no shortage of options for jogging tracks in the city. For your convenience and comfort, most tracks are equipped with rubberised surfaces and distance markers. Choose one in a swanky urban locale, around a park, along the beach or even in your neighbourhood and make personal strides towards your next performance in a race event. 
You may even come across an outdoor calisthenics gym along the track (especially if you're at a park) – which makes for a wonderful pit stop if you're looking to add more intensity to your routine.
Popular running track locations include:
Learn more: 
3. Go for a ride
See the sights on your cycle
Keep the pedals spinning for a ride that weaves through busy streets and parks or past quiet and glorious sandscapes (speckled with sightings of indigenous flora and fauna) on the outskirts of the city. Join a cycling group or explore Dubai's many cycling paths yourself on a refreshing and invigorating open-air workout.
Popular cycling paths include:
Learn more: 
4. Sweat it out at the beach
Seaside active fun awaits
Blessed with a sparkling coastline, Dubai has some amazing beaches for relaxation, food and family-friendly fun. Kite Beach and Al Mamzar Beach, in particular, have plenty to offer in the way of fitness activities. 
A well-known spot for experienced surfers and those at the KiteSurf School Dubai, Kite Beach is also a go-to for the sporty or aqua-adventurers, with its jetskis, kids' water park, and trampoline, bungee jumping and volleyball zones. For more traditional fitness by the beach, take advantage of the 7km running track that goes past the area and down to Jumeirah. Up for a game of seaside basketball or want to rent out a bike and catch the sea breeze on a ride? Al Mamzar Beach Park is well worth the trip for these offerings. 
At both locations, you may come across a fitness class, like a yoga, pilates or bootcamp session, so look out for those and join one that you'd like to try