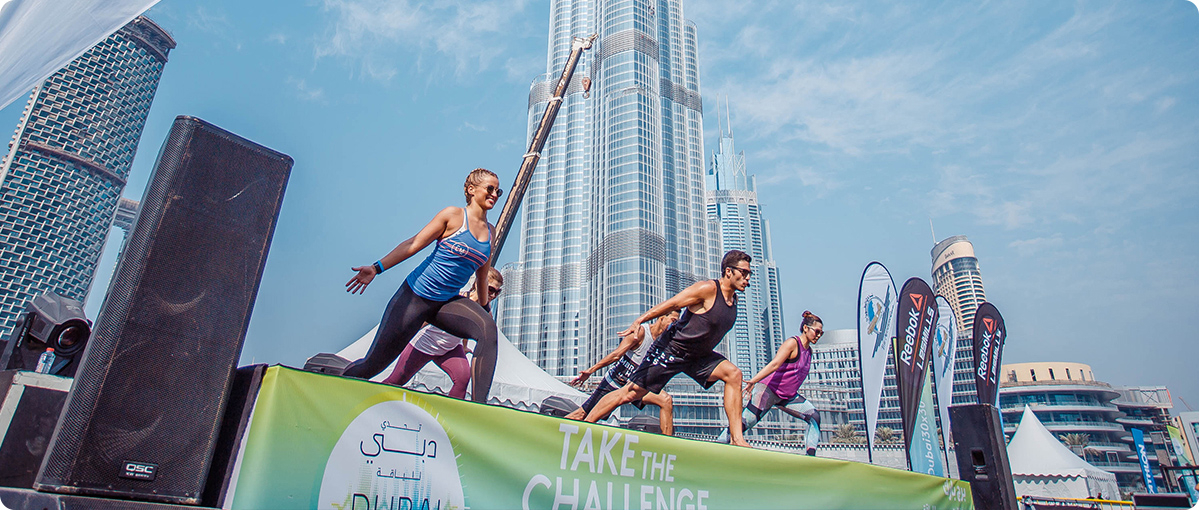 Article
Your Guide to Staying Fit Outdoors
Dubai Fitness Challenge (DFC) is in full swing and the pleasant autumn weather is here to stay, so take advantage of all that's currently available to you for free. Head outdoors, feel the lovely sunshine and breeze and complete your 30x30 – with safety and social distancing guidelines in place wherever you go.
1. Fitness Villages
Turn workouts into a fun outing
Among the highlights on the DFC calendar are the Fitness Villages, where you'll find outdoor zones dedicated to all kinds of exhilarating activities. Ideal for a full day of family fun or an active experience with friends, plan ahead for workout classes and wellness-centric events at a location of your choice and make the most of it. Some of the most popular zones offer centre-stage exercise sessions with top trainers, adventure activities like ziplining or trampolining, basketball and volleyball courts, kids' play areas and ladies-only fitness pavilions.
Don't miss out on:
2. Get ready for Dubai Run
Step up your running game
For all those who only need a trusty pair of trainers to stay on their toes, now's the best time to hit the local park tracks (or other runner-friendly pavements) and prep for the ongoing race and marathon season. 
Try these out: 
Don't miss out on: Dubai Run - the biggest community race this DFC!
Read more: Tips to get ready for a race
3. Pedal toward Dubai Ride
Take the challenge on two wheels
Spin your bike tires and get a grip on the handles if you're up for a long ride with fellow cyclists. If you haven't already, join a community cycling group in the city – like Dubai Roadsters or Velo Vixens Dubai – for regular adventures with a like-minded community and support group, and to build up your race prowess.
Don't miss out on: Dubai Ride – the first-ever citywide fun ride
Also sign up for: 
Read more: Guide to cycling in Dubai
4. Experience City is a Gym
Discover the city on a workout
Back again for the challenge this year is our fantastic City Is a Gym concept, which transforms 30 iconic Dubai locations into hi-tech workout stations. Find an exercise video and downloadable PDF guide designed by top local trainers, featuring calisthenics to combat HIIT routines and more. Be prepared to sweat it out amid scenic urban spaces.
A few workouts to start with:
Discover more free fitness and wellness material to fuel your Dubai Fitness Challenge journey. Register today and let's grow better together!