Upper body calisthenics with Roger Jimenez
Jumeirah
Join Gravity Calisthenics Gym's coach Roger Jimenez at the Jumeirah Beach area near Fishing Harbor 1, as he guides you through an equipment-free upper-body workout, focusing on your shoulders and core.

Download pdf


Check out more from our City Is A Gym series to get your 30x30 completed in locations near you, this Dubai Fitness Challenge.
MEET YOUR INSTRUCTOR
Roger Jimenez
Current lightweight Calisthenics world champion Roger Jimenez is a professional athlete and personal trainer. Has more than 40 national and international titles to his name, covering both calisthenics and climbing.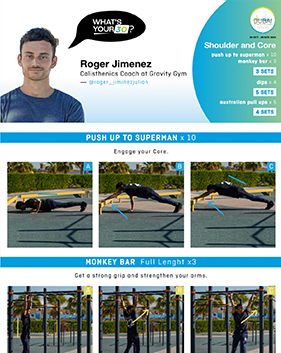 What to bring along with you:
Yoga mat
Water Bottle
Sanitiser